DETAIL
~ Firm meat !! Fulfilling lineup 14 items ~ 120 minutes with drinking ★ 5000 yen (tax included)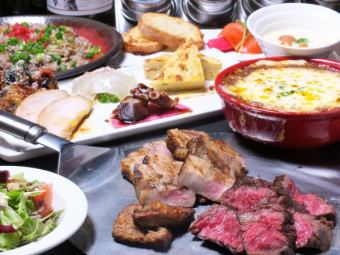 By using a coupon5000 Yen
(Tax included) / All you can drink 30 minutes Extension is + 500 yen
All-you-can-drink available

120 minutes All you can drink (※ Last order is a 90 minute timing so you can enjoy time round) ※ Please check the contents to the store.
Reservation deadline

Visit of hope the day before until 22:00
Enjoy the amazing softness and the condensed umami enjoying Okayama prefecture-produced Nana Beef Two kinds of charcoal grilled steaks, charcoal grilled pork steak with homemade spices and a carpaccio platter! In addition, you can enjoy a dish with seasonal ingredients It is contents which can enjoy 14 items in total.
Course menu
※ In the busy season such as the end of the year, the time of the seat is 2 hours system
I will do.Please note.
[Amuse]
· Shuru no Bruschetta
【Carpaccio platter】
· Red snapper Ravi got sauce
· Tai Laghi shellfish and heart trout radish Japanese style juice and Sudachi
· Smoked salmon red onion dressing
· Jelly of fruit tomato grapefruit
· Sakurajima chicken tongnat sauce
· Matured cow roast beef mustard sauce
· Italian Prosciutto balsamico sauce
【soup】
· Seasonal vegetable potage soup
【cheese】
· Rakuto cheese and oval eggplant oven baked
Bologna style
【salad】
- Colorful vegetables of green salad
【Main meat on offer 130g】
· Charcoal grilled steak of aged cattle "Nani beef" 2 kinds
· Homemade spice fragrant charcoal grilled pork steak
[Deadline]
· Specialty! 15 garlic rice garlic rice
【dessert】
· Matcha and white chocolate chocolat
Seasonal fruits and gelato
All-you-can-drink menu
·draft beer
Suntory Premium Malt
·Cocktail
· Jin (tonic · soda · gingeraele) vodka · tea (tonic · soda · gingeraele) cassis (soda · oolong tea · orange · grapefruit) peach (soda · oolong tea · orange · grapefruit) litchi (soda · oolong tea · orange · grapefruit) mango (Soda · Orange)
·wine
, Red, and white
·Highball
· Corner highball
Shochu
· Wheat · potato (rock · water split · hot water split)
·Sake
·cold sake
·plum wine
Soda Rock
·Soft drink
· Oolong tea · Orange · Grapefruit · Ginger ale · Cola · Coffee (hot, ice)

Coupon that can be used
~ Carnivorous !! All-inclusive line-up 12 items ~
Cooking only 3800 yen / 120 minutes [drinking] with attached 5000 yen

Presentation conditions

At the time of booking

Conditions of use

Tax included / reservation required / other tickets / service can not be used together / cuisine only for 2 persons / 120 minutes [drinking] with 4 people ~

Expiration date

Until the end of April 2018

【Anniversary · Birthday】 Course dessert
Change to "surprise dessert plate" for free ♪

Presentation conditions

At the time of booking

Conditions of use

If reservation / message is requested please tell us at the time of reservation / only for cuisine for 2 persons / 120 minutes [drinking] with 4 persons / all you can drink unhealthy LO 30 minutes ago

Expiration date

Until the end of April 2018
2017/05/25 update